Old makes way for new with the completion of the Rivendell eyes upgrade! These were one of my first lines ever released and were in desperate need of sprucing up. These spellbinding elven style eyes now feature realistic eye whites with vein detail, wet reflections, highlights, and lid shadows, as well as more centered pupils.
I did a fun photoshoot with 7 random colors. One of the things I love about fantasy eye colors is that you can get really creative with them. This skin is Tess 2 - Makeup 5 by LAQ and as you can see has about four lovely shadow and eyeliner colors that play across the lids beautifully. I've used eyes with complementary hues and it has a really lovely effect.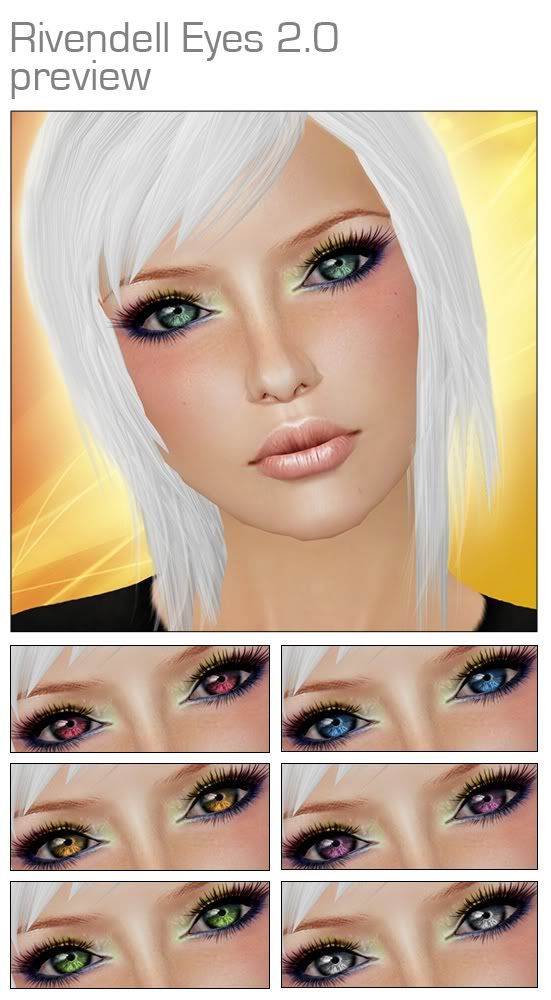 I'd say these are a great purchase if you are a human, elf, fae, creature or a fashionista looking for something different! This line of extra large eyes comes in 24 colors and as always is 99L. Each pair comes with a regular version and prim version with alpha layer to hide your default eyeballs (recommended). Below is the full color range, available OCT 1 2010 at the new Mainstore Grand Opening!
Credits:
Hair - Magika
Skin - LAQ: Tess2 Makeup 5
Lashes - Redgrave
Brow tattoo - LAQ
Photo and background - yours truly
Eyes - yours truly ;)